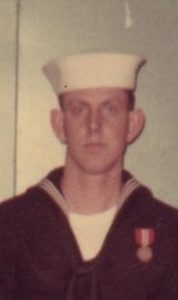 Thomas D. 'Tom' Kindle, age 70, of Blue Rapids, passed away on Thursday, August 9, 2018, at his home.
Tom was born June 7, 1948, at Marysville to Myrlyn D. and Viola C. (Walsh) Kindle. He graduated from Valley Heights High School in 1967. He was in the US Navy from 1967 to 1970 and served a tour in Vietnam. He married Peggy Yentzer on January 23, 1981 at Marysville. Tom had worked for Titan Trailer Manufacturing, first as a welder and later as an inspector.
Tom was a loving husband, father and grandfather.
Survivors include his wife Peggy, seven children; Kimberly Underwood of Lincoln, Missouri, John D. Kindle of Lincoln, Missouri, April Kindle of Watson, Missouri, Christopher Blacketer, of Marysville, David Blacketer of Auburn, Nebraska, two brothers Bruce (Pamela) Kindle of Waterville, and James Kindle of San Diego, California, six grandchildren and nine great-grandchildren.
Preceding him in death were his parents.
Memorial services are at planned for 2:00 pm, Thursday, August 16, 2018, at Terry-Christie Funeral Home in Waterville. Inurnment, with military honors, will be at Maplewood Cemetery west of Barnes. Honorary Bearers are Ned Leinweber, Sue Hull and Kenneth Herring.
Memorials are suggested to either Meadowlark Hospice or the American Cancer Society and may be sent in care of Terry-Christie Funeral Home at PO Box 61, Waterville, Kansas 66548.