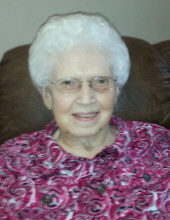 Betty Marie Critchfield, 91, of the Penokee-Morland-Hill City area was born June 5, 1926, in Rural Penokee to Charles and Maye (Loof) Critchfield. She was the second child born to the family with her brother Dale being the oldest. Betty passed away February 14, 2018 at the Graham County Hospital surrounded by her family.
Betty grew up in the heart of Kansas in the Leland Community. She attended school in Morland, where she was class president and the Salutatorian of her senior class. Betty went on to attend college at Fort Hays Teacher's College, Hays, Kansas where she earned her teaching certificate. She was an educator for all grades in Leland and Morland. She then taught second grade in Hill City.
The couple was introduced by a mutual friend at a 4-H party in 1940. Betty was in the 8th grade and Willard was a freshman in high school. Willard remembers courting Betty with trips made to the Morland area on his homemade scooter with a Maytag motor. They shared letters sent to each other on the same day, when the train which traveled east to Hill City later returned to Morland. The couple also corresponded throughout World War II, while Willard served in the military. Betty Marie was united in marriage to Willard Darrow Riggs June 1, 1947. They married at the Mount Pleasant Baptist Church in Studley, Kansas, where they faithfully attended services until they moved to Hill City in 1974. To this union three children were born: Linda Marie, Patricia Lynn and Arnold Dean. Willard and Betty recently celebrated their 70th anniversary.
The Riggs family made their home southwest of Hill City until 1956 when they
moved to Penokee. Betty loved music and enjoyed playing and teaching the piano. Linda remembers children coming to the house in Penokee for lessons. Betty shared her love of music with her family. Linda at the age of six and Patricia age four won a talent contest singing "Sugartime". "Sugartime" continued being a family favorite with Betty playing the piano and the grandkids singing by her side.
Willard and Betty moved to Hill City after Arnold graduated from high school in 1974. They joined the Christian Church where Betty was part of the choir and president of the Women's Missionary Group. She enjoyed sharing her gift of cooking for many church events.
Betty Marie was a fabulous cook. She made a pie crust that is almost impossible to duplicate. The family's favorite recipe was a cranberry salad that Betty made for every holiday. Everything she made was prepared with love. This was just one of the many ways she showed how much her family meant to her.
She was preceded in death by her parents; brother Dale and sister Doris who died as an infant. She is survived by her husband Willard of Hill City; her three children: Linda and husband Charles Lansdon, Patricia Landon, and Arnold and wife Maria, all of Garden City; five grandchildren, five great grandchildren and one great-great grandson.
Betty Marie was the heart and the soul of her family. She cared about people and everyone felt her love and sincerity. She passed along her generous spirit and she will always be remembered.