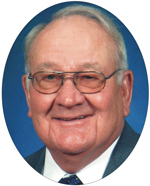 Jack O'Neal, 89, of Salina, passed away peacefully, Sunday, Feb. 11, 2018 at Salina Presbyterian Manor with his loving wife, Neola, at his side. He was born Dec. 15, 1928 to Willie and Opal (McVaugh) O'Neal. After the passing of his mother, he was raised by his uncle and aunt, James and Icle (McVaugh) Isaac of Manchester and farmed with his uncle, Fred O'Neal of Longford.
He grew up in the community of his birth, Manchester, Kan., and graduated from Chapman High School, 1947. After high school, Jack served in the Korean War where he was awarded the Bronze Star for distinguished service. He returned home and married Evelyn Sims of Manchester, and they resided in Salina, where Jack worked for Southwestern Bell Telephone for 36 years. They had three children, Randy (Terry) of Popular Bluff, Mo., Ronald of Lindsborg, and Robert (Pam) of Hope.
His wife preceded him in death in 1966. In 1968, Jack married Neola (Barton) Beliel of Salina. Neola had three children, Dr. Steven Beliel (Brenda) of Gordon, Neb., Linda Aye of Oklahoma City, and Teresa Clark (Stephen) of Plano, Texas. Together, Jack and Neola had 15 grandchildren and 12 great-grandchildren.
He was preceded in death by a grandson, Jamie O'Neal, and a sister, Joan Mears, Tacoma, Wash.
Jack and Neola spent 50 years together. They loved to travel the US in their camper. In his spare time, Jack loved to work with wood and collect antiques. He was a volunteer at the Central KS Flywheels Museum, Salina, and was active in the Boy Scouts of America, earning the Silver Beaver award. He led many boy scouts on canoe trips to the Charles L. Somers Canoe Base, Ely, MN and hiking trips to Philmont Scout Ranch in New Mexico. Jack was a Masonic Lodge #60 member, VFW, Bell Telephone Pioneers and a member of First United Methodist Church.
Memorial services will be at 1:30 p.m. Friday, Feb. 16, at the First United Methodist Church, Salina. Inurnment will be in the Gypsum Hill Cemetery, Salina.
Memorials may be made to: the Church, the Central KS Flywheels, or Boy Scouts of America.