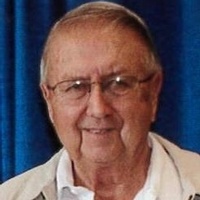 Donald L. Tasker, 88, Salina, died Thursday, September 21, 2017 at the Ottawa County Health Center, Minneapolis. Don was born November 21, 1928 in Minneapolis to Alfred and Helen (Klein) Tasker.
Don and Donna Davis were united in marriage on July 26, 1946. To this union three children were born; Donald, Pamela, and Roxanne. Don was a member of the Sunrise Presbyterian Church, Salina Home Builders, Elks Lodge, and Delphos Lions Club. He was a lifetime contractor and farmer.
He was preceded in death by his parents; sister Phyllis Anderson, and grandchildren, Jeff Tasker and Nicole Rae Tasker.
Survivors include his wife of 71 years, Donna; children, Donald Tasker, Pamela Carlson and husband Steve, and Roxanne Tasker; sister, Dorothy Nightingale; 13 grandchildren; 10 great-grandchildren; and 1 great-great-grandchild.
Memorial services will be at 11:00 A.M., Tuesday, September 26, 2017 at the First Presbyterian Church, Minneapolis, with Pastor Michele McHenry officiating. Private family burial will be in the Delphos Cemetery. Visitation will be from 6:00 to 8:00 P.M. Monday at Wilson Family Funeral Home, Minneapolis. Memorial contributions may be made to the Ottawa County Health Center or the Delphos Museum and may be left in care of Wilson Family Funeral Home, P.O. Box 166, Minneapolis, KS 67467.