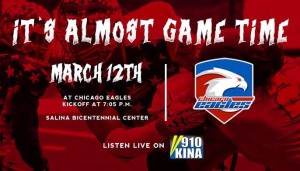 The Salina Liberty hit the road for the first time this season as they have traveled all the way to Chicago take on the Eagles.
The Liberty will be looking for their first win of the 2016 CIF regular season after losing their home opener to the Wichita Force last Saturday, 66-44.
Starting quarterback Reggie Langford, who missed the season opener after being hospitalized with dehydration, will make his debut tonight against the Eagles. He had a big game in the Liberty's preseason contest against the Topeka Thunder last month, throwing 4 touchdown passes and running for 2 more. Langford was replaced in the season opener by Joe Kassanavoid and Derek Racette. Kassanavoid threw for 214 yards and 3 touchdown passes. He also threw 4 interceptions, 2 of which were returned for Wichita scores.
The Eagles, also 0-1 on the season, dropped their season opener to Sioux City, 41-39. The Eagles, much like the Liberty, will be looking for their first win in franchise history tonight as well.
The Liberty are without starting defensive lineman Adam Davis, who is out with an injury. Defensive lineman Micah Collins Davis, a former Bethany Swede, has been signed and will be active tonight.
Former Salina Bomber kicker Mike Georgetti has returned to Salina. He kicked for the Bombers during the 2014 season. He replaces Merf Trout, who was released by the team after last week's game.
Another former Bomber, and original Liberty signee Pelton Smalls, has been activated after wide receiver Jarrel Kelley was released earlier this week. Kelley returned the opening kickoff of last week's game for a touchdown and caught two passes for 81 yards, including one for a touchdown. Kelley, according to the team, was released for unspecified off the field issues.
Kickoff for tonight's game is set for 7:05 p.m. at the UIC Pavilion in Chicago. All the action can be heard on the official station for Salina Liberty football, KINA 910 AM and 94.5 FM. The game will also be available online on The Salina Post by clicking the KINA tab at the top of the main page, and also on the TuneIn application by searching 'KINA'. TuneIn is available for all iOS and Android mobile devices. Pregame begins at 6:30 p.m.