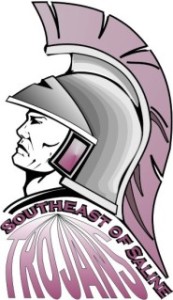 The Southeast of Saline basketball teams split on the road at Russell Tuesday night.
The Lady Trojans got out of the gates sluggish shooting from the floor and battled early foul trouble. SES would manage only three first half field goals and trail 12-30 at the intermission. The Russell lead would expand to 22 points then Southeast would mount a rally. The Lady Trojans cut the Russell lead to 14 at the end of the 3rd quarter and kept working back within 6 points in the 4th quarter. Russell would hit 10 of 17 free throws in the final quarter to hang on for the win, 53-45.
Erica Montgomery led SES with 15 points despite sitting out most of the first half in foul trouble. Calli Calihan scored 13 points. The Lady Trojans are now 6-2 overall and 2-2 in NCAA play.
The Southeast boys would start fast and finish strong in a 80-43 victory on Tuesday night. Ben Stutterheim led all scorers with 21 points for the Trojans while Easton Montgomery had 18 points. Aidan Murray was also in double-digit scoring with 11 points and 12 rebounds.
Southeast is 6-2 overall and 2-2 in NCAA play. The Trojans will host Republic County on Friday at 6:00 pm.