Local
TOPEKA – Three Salina organizations have been awarded more than $75,000 in grants to provide services for victims of crime, …Read More.
Booking Activity for the Dickinson County Jail for September 23 – September 29, 2016. All persons included in this post …Read More.
Sometime between July 18th and August 8th, 2016, the Blue Ridge Elementary School located on K-18 Highway, was burglarized. Thirteen …Read More.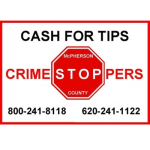 On September 13, 2016, sometime between 6:45 a.m. and 4 p.m., a large metal shed, located in an area 1 …Read More.
The Salina Area Chamber of Commerce and League of Women Voters will sponsor a Candidates Forum for Saline County Clerk …Read More.
The Salina Senior Center is once again partnering with B&K Prescription Shop to offer flu shots for seniors. B&K personnel …Read More.
A small fire at an elementary school playground was quickly extinguished early Wednesday evening. Salina Police Captain Paul Forrester said …Read More.
For the second time this month police are investigating the theft of a moped from a Salina home. Captain Paul …Read More.
Salina Police have arrested a homeless man accused of assaulting a Salina teenager in downtown Salina Wednesday night. Captain Paul …Read More.
News
TOPEKA – On Thursday, the Kansas Bureau of Investigation (KBI) announced a successful multi-agency drug enforcement operation that led to …Read More.
KANSAS CITY, Kan. (AP) — An 18-year-old man has pleaded guilty to charges stemming from a shooting that a Kansas …Read More.
COLUMBUS, Kan. (AP) — A Kansas woman has been convicted of killing a man whose burned body was found after …Read More.
WASHINGTON (AP) — Medicare is setting new goals for keeping hospitalized patients safe and reducing readmissions after patients are discharged. …Read More.
This past weekend, the Kansas Highway Patrol joined other law enforcement agencies from across a six-state area to address the …Read More.
RENO COUNTY — Reno County District Attorney Keith Schroeder has filed a petition against Judge Trish Rose with the Kansas …Read More.
JACKSON COUNTY – A Kansas woman was injured in an accident just before 7 a.m. on Thursday in Jackson County. …Read More.
WICHITA, Kan. (AP) — A federal judge has canceled a contempt hearing for Kansas Secretary of State Kris Kobach (KOH'-bahk) …Read More.
BY ANDY MARSO A man involved in a racist incident at a Bethany College has been trying to gain a …Read More.
Sports News
KANSAS CITY, Mo. (AP) — The World Series champions have failed to make the postseason for the fourth year in …Read More.
Topeka, KS – The Kansas Volleyball Association is pleased to announce the 2016 Week 4 Volleyball Rankings sponsored by PrepVolleyball.com. …Read More.
The Southeast of Saline Lady Trojans varsity volleyball was swept at Beloit on Tuesday. Southeast was defeated by Beloit 9-25, …Read More.
KANSAS CITY, Mo. (AP) — Billy Burns' sacrifice fly scored Raul Mondesi in the 11th inning as the Kansas City …Read More.
The Champions Indoor Football League (CIF), home of the Salina Liberty, has announced the approval of at least three new …Read More.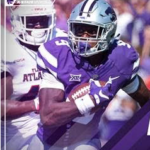 MANHATTAN, Kan. – For a second-consecutive week, a Kansas State returner earned Big 12 Special Teams Player of the Week …Read More.
TOPEKA, Kan. – On Monday, the Kansas State High School Activities Association released their classifications for the 2016-17 school year. …Read More.