Local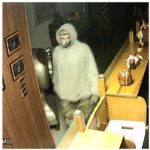 McPherson County authorities are requesting the public's help to identify a suspect involved in the burglary of a bank early …Read More.
Booking Activity for the Dickinson County Jail for October 14 – October 21, 2016. All persons included in this post …Read More.
Sometime during the overnight hours of October 1st, 2016, unknown suspects caused extensive damage throughout Bicentennial Park in Abilene. Total …Read More.
A Salina man featured in the October edition of the Salina's Most Wanted List has been arrested. On Friday morning, the …Read More.
TOPEKA, Kan. (AP) — Kansas lost more than 2,000 private-sector jobs in September as the state's unemployment rate ticked up …Read More.
Between October 6 and October 10, 2016, force was used to commit burglaries at All Seasons Power Equipment, 821 N. …Read More.
Recent Booking Activity for the Saline County Jail. This report is continually updated through 1 p.m. each day. All persons …Read More.
SALINA – The top ranked professional championship bull riders in the world, are set to ride in Salina, Kansas on …Read More.
For the most up-to-date availability of our pets, please check the Salina Animal Shelter website. Salina Post does not guarantee …Read More.
News
RICE COUNTY – Investigators in Rice County have not determined the exact cause of a Wednesday morning house fire in …Read More.
WICHITA, Kan. (AP) — The Latest on three men accused of conspiring to detonate truck bombs at an apartment complex …Read More.
ATCHISON, Kan. (AP) — The Latest on the chemical spill at a plant in Atchison, Kansas, (all times local): 1:40 …Read More.
BARTON COUNTY- After twelve years as Barton County Administrator Richard Boeckman resigned on Friday, effective immediately. Commissioners made the announcement …Read More.
TOPEKA, Kan. (AP) — Kansas' highest court has upheld the death sentence of the first prisoner condemned in the state …Read More.
RILEY COUNTY –Investigators are working to determine the cause of a Friday morning house fire in Manhattan. Just after 2:30 …Read More.
WICHITA, Kan. (AP) — President Barack Obama has signed a disaster declaration for 11 Kansas counties hit hard by last …Read More.
KANSAS CITY, Kan. (AP) — Authorities have arrested a second suspect in a Kansas City, Kansas, homicide and continue looking …Read More.
SHAWNEE COUNTY -Law enforcement authorities in Shawnee County are investigating a Friday morning shooting. Just before 3:30 a.m., a 20-year-old …Read More.
Sports News
WEEK 8 HIGH SCHOOL FOOTBALL PREVIEW Southeast of Saline (7-0) VS. Hesston (4-3) – 7 p.m. The undefeated Southeast of …Read More.
EL DORADO, Kan. — Changes are on the way for how scholarships are handed out in the Jayhawk Conference and …Read More.
MANHATTAN -Kansas State returns home on Saturday for its annual Homecoming matchup as the Texas Longhorns will visit Manhattan Saturday …Read More.
At a press conference at the Salina Bicentennial Center Wednesday afternoon, the Salina Liberty welcomed several new players into the …Read More.
SPRINGFIELD, Mass. – Kansas junior Devonte' Graham has been named one of 20 candidates for the 2017 Jerry West Shooting …Read More.
DAVE SKRETTA, AP Sports Writer KANSAS CITY, Mo. (AP) — The Kansas City Chiefs have traded backup running back Knile …Read More.
GRAPEVINE, Texas (AP) — The Big 12 Conference has decided against expansion from its current 10 members. The announcement came …Read More.