Local
The Stiefel Theatre for the Performing Arts in downtown Salina has added another show to their upcoming line up. Legendary …Read More.
News
WICHITA, Kan. (AP) — National Weather Service branches in Wichita and Tulsa, Oklahoma, are re-enacting a deadly 1991 tornado outbreak …Read More.
ELLIS COUNTY – A Kansas man was injured in an accident just before 4:30 p.m. on Monday in Ellis County. …Read More.
ROXANA HEGEMAN, Associated Press WICHITA, Kan. (AP) — A decades-long ordeal ruined a Texas man, but his life might start …Read More.
OMAHA, Neb. (AP) — Figures from a survey of supply managers in nine Midwest and Plains states have dropped slightly …Read More.
HUTCHINSON – A Kansas man, well known for stealing vehicles, was arrested again over the weekend when he allegedly stole …Read More.
WICHITA, Kan. (AP) — A Kansas woman was spared from going to prison after admitting she helped her husband steal …Read More.
TOPEKA, Kan. (AP) — Kansas is reporting that its tax collections last month were $2.6 million more than expected, giving …Read More.
OLATHE, Kan. (AP) — The second of two men who escaped from a southeast Kansas county jail is back in …Read More.
By JIM MCLEAN A coalition of health care and religious groups is asking Gov. Sam Brownback to convene a conference …Read More.
GRAY COUNTY -One man is in custody in Meade County following a standoff on Monday in Montezuma. Just after …Read More.
Sports News
SEATTLE (AP) — Ian Kennedy felt like he only had one pitch working for him against the Seattle Mariners on …Read More.
In the second round of the "Tumbleweed Throwdown" Saturday night, the Dodge City Law took possession of the rivalry trophy …Read More.
SEATTLE (AP) — Wade Miley scattered five hits for his first career shutout and Kyle Seager hit a three-run homer …Read More.
MANHATTAN – One of the best offensive linemen in program history, Kansas State's Cody Whitehair was selected with the 25th …Read More.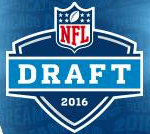 KANSAS CITY, Mo. (AP) — The Chiefs should be busy on the final day of the NFL draft. After trading …Read More.