Local
Salina Police are looking for a stolen vehicle and a known suspect. Police Capt. Paul Forrester said that 21-year-old Samantha …Read More.
A Salina man returned to his residence on the 700 block of Scott yesterday, chasing off two burglars. Capt. Paul …Read More.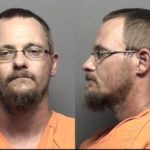 Recent Booking Activity for the Saline County Jail. All persons included in this post are innocent of crimes until proven …Read More.
RILEY COUNTY — A teen reported missing this week has been found safe, according to Riley County Police. Cal0b Haymond, …Read More.
On Friday, September 8, 2017, between 4:45 p.m. and 5:05 p.m., 4 subjects (3 females and 1 male) entered Sam's …Read More.
Visitors to the USD 305 website will discover they now can choose between individual schools' calendars or a collection of …Read More.
First responders were sent to milepost 19 on K-140 just after 12 a.m. this morning for a single vehicle rollover …Read More.
The Saline County Sheriff's Office recently completed the " You Drink. You Drive. You Lose." campaign and the numbers are …Read More.
The Kansas University School of Medicine-Salina seeks artists to develop original art for the new Medical Education Building that will …Read More.
News
LAWRENCE, Kan. (AP) — A 20-year-old man who is charged in a deadly Lawrence shooting told a judge that he's …Read More.
KANSAS CITY, Kan. (AP) — Wyandotte County officials have charged a man with murder in the death of a woman …Read More.
DOUGLAS COUNTY — Law enforcement authorities are investigating a fatal shooting. Just after 10:30 a.m. Friday, police were dispatched to …Read More.
RENO COUNTY — Law enforcement authorities are investigating a fatal shooting and have made an arrest. Just after 6:30 a.m. …Read More.
WICHITA, KAN. – A Kansas woman pleaded guilty Friday to robbing three local businesses, according to U.S. Attorney Tom Beall. …Read More.
TOPEKA, Kan. (AP) — A spokeswoman says former Republican presidential candidate and U.S. Senate Majority Leader Bob Dole is hospitalized …Read More.
KANSAS CITY, Kan. (AP) — Prosecutors have dropped two first-degree murder charges against a Kansas man accused in a 2015 …Read More.
SEDGWICK COUNTY — Young Kansas immigrants continue to express their distress following President Donald Trump's decision to rescind DACA, the …Read More.
Hutchinson Police reported late Thursday they did locate the vehicle believed involved in the hit-and-run accident. They have not located …Read More.
Sports News
The PKM Steel Service Game of the Week for week four featured two Saline County teams on Friday night. The …Read More.
Thursday's Scores SM East 45, Olathe North 14 SM South 35, Leavenworth 7 Turpin, Okla. 52, Rolla 6 Wichita Bishop …Read More.
TORONTO (AP) — Jason Vargas and four relievers combined on a two-hitter, Melky Cabrera had three hits and the game's …Read More.
The Salina Liberty has signed two more players for the upcoming season. In a press release, the indoor football team …Read More.
TORONTO (AP) — Mike Moustakas hit his 37th home run of the season, breaking Steve Balboni's Royals record, Salvador Perez …Read More.
The Southeast of Saline Trojans will take on the Sacred Heart Knight this Friday – Both teams look to end …Read More.
25-21, 25-15 W 16-25, 19-25 L Split with Minneapolis Morgan Thaxton: 16 kills, 4 solo blocks Katie Moddelmog: 2 solo …Read More.