Local
Seatbelt enforcement in downtown Salina sparked a pursuit yesterday afternoon. Saline County Sheriff Roger Soldan said that the driver was …Read More.
99KG will be kicking off the Memorial Day weekend with monster trucks, free food and Bounce-A-Roos. Salinans can get a …Read More.
City offices will be closed Monday, May 29, 2017 for the Memorial Day holiday. Staff will return to the regular …Read More.
Recent Booking Activity for the Saline County Jail. All persons included in this post are innocent of crimes until proven …Read More.
Tucson's Steakhouse at 2750 S. Ninth in Salina is partnering with Salina Area Technical College to help send four students …Read More.
A 25-year-old Salina woman was staying with a friend when she had her 2002 Pontiac Montana stolen. Salina Police Capt. …Read More.
Jon Blanchard announced today that he will be withdrawing his name from consideration in the upcoming city commission election. Blanchard …Read More.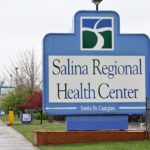 A free educational seminar about atrial fibrillation will be held at Salina Regional Health Center. The seminar will be hosted …Read More.
A Salina businessman has announced his run for a seat on the Salina City Commission. Frank Hampton filed Wednesday afternoon. …Read More.
News
By MEG WINGERTER Federal officials this week approved a corrective plan for Kansas' privately managed Medicaid program, easing pressure on …Read More.
DOUGLAS COUNTY – Law enforcement authorities are investigating a suspect in a May 15, armed robbery and have suspect in …Read More.
RENO COUNTY–A Kansas woman accused in a fatal, January DUI accident waived her right to a preliminary hearing in Reno …Read More.
SEDGWICK COUNTY – Law enforcement authorities in Wichita reported the arrest of 38-year-old Steven Harris. He is wanted in connection …Read More.
SUMNER COUNTY – Another small earthquake hit Kansas late Thursday. The quake just before midnight and measured a magnitude 2.6 …Read More.
SHERMAN COUNTY -Thursday evenings storm brought strong winds, hail and heavy rain to across western Kansas. Wind gusts of 50 …Read More.
WICHITA- A Kansas man was sentenced Thursday to 46 months in federal prison for turning stolen mail into 14 false …Read More.
WASHINGTON, Kan. (AP) — A northern Kansas woman is fighting a decision by state fair officials to strip her champion …Read More.
KANSAS CITY, Kan. (AP) — A Kansas woman accused of driving into a group of teenagers, killing one of them, …Read More.
Sports News
IRVING, Texas – Kansas will host former Big 12 Conference foe Texas A&M on Saturday, Jan. 27, 2018, in the …Read More.
NEW YORK (AP) — Helped by a great first-inning catch that forced center fielder Jacoby Ellsbury from the game with …Read More.
LAWRENCE, Kan. – After working out for his third NBA team Wednesday, University of Kansas guard Sviatoslav Mykhailiuk announced he …Read More.
The Southeast of Saline softball team will make the team's third consecutive appearance at the KSHSAA Class 3A State Softball …Read More.
MANHATTAN, Kan. – Former K-State Director of Athletics Max Urick was one of six former athletics directors announced as part …Read More.
KANSAS CITY, Mo. – University of Kansas head coach Bill Self has been named president of the National Association of …Read More.
NEW YORK (AP) — Danny Duffy noticed a flaw in his delivery a few weeks ago: His front hip was …Read More.