Hibiscus are a great summertime plant. They like warmth and sun. What could be a better plant of the month for August?

There are three main types of hibiscus. There are the tropical, hardy or perennial, and the shrub Rose of Sharon. While they are all related their care does vary a little.

The tropical hibiscus probably have the most vibrant color usually in red, orange or yellow.† They are the longest blooming. They are heavy feeders and need to be fertilized weekly to keep producing flowers. They like sun, but do appreciate some shade when it is very hot. Too much hot sun can cause bud blast. This condition causes the plant to drop buds before they open. Allowing the plant to wilt can also cause this problem. If you keep them fertilized, well watered and a little afternoon shade you can expect beautiful blooms until the first frost kills the plant.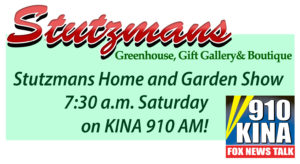 Hardy hibiscus have the largest flowers by far. They are frequently referred to as a "dinner plate" sized flower. The flowers are typically 6″ – 10″ across. They come in red, pink and white. The traditional varieties have a larger lighter green leaf than the tropical type. There are some hardy varieties that have very unusual ornamental leaves. They have deeply lobed leaves or dark purple leaves. Hardy hibiscus grow best in full sun with ample moisture. They will tolerate drier conditions, but will not grow or bloom as well. I would fertilize them like my other perennials in the spring and fall with the granular tree and shrub fertilizer. Since they like the warmer temperatures they come up late in the garden. They are a true perennial and come up from below ground about the beginning of May.

The last member of the hibiscus family commonly found here is the Rose of Sharon. They grow as a woody shrub. They can usually grow around 8 – 10 feet tall. There is a new variety called Little Kim that only grows three to four feet tall. Rose of Sharon flowers are smaller, generally 2 – 3 inches across, but there are frequently hundreds blooming at once on a mature plant. They usually come in pinks, lavenders, and whites. Many have a dark red eye in the center of the bloom. There are also many double-flowered varieties. Since they are a woody shrub, they don't die back each year but do drop their leaves for winter. Like the other types, they like warm sunny areas and leaf out a little later in the spring. They bloom on the new growth so they can be trimmed any time they are dormant. This is a great way to keep the size under control. I fertilize them spring and fall with the tree and shrub fertilizer.

As you can see the hibiscus family provides great color for the summer. The different types all have very different uses in the landscape. Everything from the striking color of the annual tropical types to a perennial to a large woody Rose of Sharon. I hope you can find a spot to enjoy one or all types of this great family of plants.

If you have any questions about hibiscus or any other plants please contact me by e-mail at retail@stutzmans.com.

Thanks,

Jason French
Manager, Stutzmans Greenhouse in Pleasantview