DICKINSON COUNTY — One person was injured in an accident just after 9p.m. Saturday in Dickinson County.
The Kansas Highway Patrol reported a 2004 Mazda 6 driven by Lacy Joe Folsom, 24,  Manhattan, was eastbound on Interstate 70 one mile north of Chapman in the right lane and rear-ended a 2006 Mazda 3 driven by Bradford Wine, 52, Fontana, that had just merged onto I-70 at the Chapman ramp.
The collision caused both vehicles to collide with the bridge rail.
Folsom was transported to Geary Community Hospital.  Wine and two passengers in the Mazda 3 were not transported for treatment. All four were properly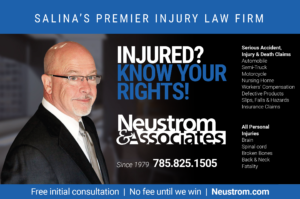 restrained at the time of the accident, according to the KHP.