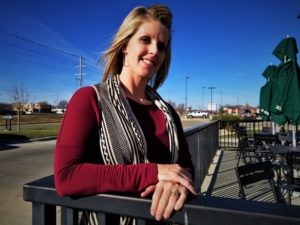 In January of 1999, Jill Barber met a little girl that would dramatically change the course of her career. Barber said it is that encounter that pushed her to pursue a career in special education. Jill Barber is the BANK VI Hero of the Week.
Barber was born and raised is Saline County and is an Ell-Saline graduate. While pursuing a teaching career at Bethany College, Barber said she met a little girl in a wheelchair while conducting observation at Heusner Elementary.
"I just fell in love with her," Barber said. "She made me want to be a better person, she made me want to be a special ed teacher. That changed it all."
The story came full circle when the two were reunited at South Middle School- Barber said she graduated in time to be the girl's teacher.
"She had a lot of challenges she faced every day but she was always smiling and always happy," Barber said.
Barber has been a special education teacher at South Middle School for 14 years and has been a key component to the department. Last year, Barber helped apply for two grants that funded a sensory room to help students, especially those with autism.
The room is used hourly and provides a calming environment with specialized textures, noises and lighting.
Observing different types of classrooms is crucial to anyone contemplating a career in special education, according to Barber. "There are so many types of classrooms with many levels of learning."
Barber is a functional special education teacher, meaning she works with kids on day-to-day tasks like money, cooking and telling time. "There is a wide range of levels of function in my class but we focus mainly on those daily living skills."