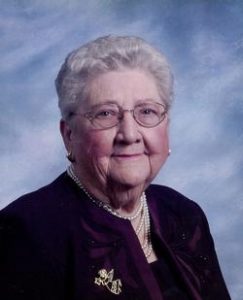 Marie E. Krueger, 92, of Washington, Kan., died November 6, 2017 at the Linn Community Nursing Home.
Visitation was Thursday, November 9, from 10 a.m. to 8 p.m. at Ward Funeral Home in Washington. The family received friends from 5 to 7 p.m.
A funeral service was held at 10:30 a.m., Friday, November 10 at the Good Shepherd Lutheran Church in Washington. Pastor Judy Hill and Rev. Donna Florio officiated. Sheila Ouellette was organist and Jim Smart sang "How Great Thou Art." The congregation sang "Amazing Grace" and "On the Wings of a Dove", was played.
Pallbearers were Rodney Krueger, Randy Krueger, Nick Krueger, Cody Krueger, Brad Boyer, Steve Hall and Jaron Schoenberger. Honorary pallbearers were Jill Boyer, Stacy Hall, Jennifer Bisping, Michelle Schoenberger, Shannon Krueger and Tamara Krueger. Burial was in the Washington City Cemetery.
Marie was born March 17, 1925 to Henry and Freida (Walker) Koch in Hanover. She was baptized at Zion Lutheran Church, Hanover and confirmed in 1938 by Pastor Goldenstine. When Marie was fifteen months old, her mother died, and being the youngest of seven children, she went to live with her Uncle Bill and Aunt Bertha Koch. When she was 2 ½, Marie went to live with her Uncle Herman and Aunt Augusta Koch and lived with them until she married.
Marie attended Pleasant Hill and Mount Zion Schools in the Hollenberg area. In 1980, Marie received her high school diploma. She cleaned houses for different families in the area.
On June 9, 1946, she was united in marriage to Robert Krueger in Hanover. They lived on the farm and Marie moved to Washington in 1980, after Roberts death. Three children were born to this union, Richard, James and Tammy. Bob and Marie were 4-H leaders for many years and they started the Wagon Train and had it for several years. Marie was also a cooking leader for 4-H, after she moved to Washington. She was a charter board member of Twin Valley Developmental Services. She served several terms and was instrumental in helping get Twin Valley started in Greenleaf and Beattie.
Marie was a member of the Good Shepherd Lutheran Church in Washington. She served on the Church Council as President and served many years as the finance secretary. Marie was an avid quilter and quilted at church on Wednesday afternoons and worked at Hearts N'Things. For several years, she worked at the Linn Legion, the Corner Café and babysat.
Bob and Marie were foster parents, in all they had fifteen foster children and eight of them graduated from high school while with the Krueger's. Marie loved cooking, gardening, and canning her own food. She also loved flowers, especially roses.
Preceding her in death were her parents; her Aunts and Uncles, who raised her; her husband, Robert on March 1, 1978; siblings, Grace Dusin, Gladys Wilkinson, Gertrude Neumann, Margaret Jandera, Harold Koch, Gritz Koch; and an infant son.
Survivors include her children, Richard and Judy Hill Krueger, Jim and Peggy Krueger, Tammy and Roger Lohmeyer; eight grandchildren, Rodney Krueger, Randy Krueger, Jill (Brad) Boyer, Nick (Tamara) Krueger, Cody (Shannon) Krueger, Stacy (Steve) Hall, Jennifer Bisping and Michelle (Jaron) Schoenberger; and ten great grandchildren, Garrett and Julia Krueger, Brody Boyer, Maddy and Dalton Krueger, Ada and Logan Hall, Samuel Krueger, and Jayden and Carson Schoenberger; and sisters-in-law, Delores Koch, Billie Jo (James) Smart and Joanne (Richard) Bowen. Marie also has three step grandchildren and seven step great grandchildren.
A memorial fund is established to Good Shepherd Lutheran Church or to Hearts N'Things. Contributions may be sent in care of Ward Funeral Home.