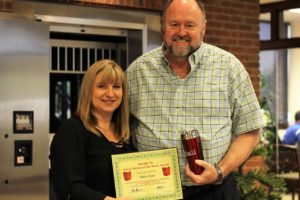 Alaina Ryan took her first job in education when she moved to Salina ten years ago. This year, she received the Support Staff of the Year Award from the Kansas Head Start Association. She also went on to win the Region VII Award. Alaina Ryan is the BANK VI Hero of the Week.
Alaina was raised in Northern California. Her husband works for Blue Beacon and they were transferred to Salina in 1988. They stayed in Kansas for three years before returning to California. Alaina said she really enjoyed living in Salina and wanted to move back one day.
About ten years ago, Alaina got her wish; her husband was transferred back to Salina.
According to Alaina, she had been working in a bank while in California but there weren't many banking jobs open when they moved back to Salina. She eventually applied for the administrative assistant job at Heartland Early Education, a job she has held for ten years now.
Alaina said she loves her job and couldn't imagine working anywhere else. "I love the professional atmosphere of working in a bank but I really feel like I am working for the greater good at Head Start."
Head Start offers a variety of programs for children but Alaina said she is proud of their Early Head Start program that helps low-income families with child care. She said she also enjoyed seeing all 16 high school students who utilize Head Start's parenting program receive their degrees.
"It is a wonderful organization and I am blessed to be part of it," Alaina said. "We have an amazing staff who work hard every day for not a lot of money. They do it because they are passionate about it."
Each year Head Start gives out awards to teachers and support staff. Alaina was named Support Staff of the year for Kansas. She also won the Support Staff of the Year Award for Head Start Region VII, which includes Kansas, Iowa, Missouri and Nebraska.
Alaina has been married for 29 years. She has a daughter that teaches at Lakewood and a son that is attending Kansas State University.