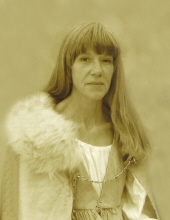 Machelle M. (Scarrow) Peace passed away March 17, 2017 at the Rooks County Health Center in Plainville, Kansas at the age of 56. Machelle was born on November 5, 1960 to Ronald Von and Sharon Kay (Heath) Scarrow. She was married to Jeffrey Jay Peace on October 17, 1998 at the Main Street Christian Church in Stockton, Kansas.
Machelle enjoyed working at the nursing home where she was an LPN. She also enjoyed cooking, crocheting and gardening. She would get upset if the dogs, chickens or goats got into her flower beds. The highlights of her Christian faith were the mission trips to Belize, El Salvador, and Nicaragua which she was able to go on through the Emmanuel Foursquare Church in Salina which she attended once a month. She also was a member of the First Christian Church in Plainville.
Machelle is survived by her father Von Scarrow of Lindsborg; husband Jeffrey Jay Peace of the home in Plainville; sons Jed Peace also of the home in Plainville and Garrison Peace of Zurich; daughters Rachel Kinsey of Kansas City, MO and Jestine Peace of Speed; brother Bob Oliva and wife Kerri of Silver Lake; Sisters Marcie Barton and husband Terry of Port Lavaca, TX, Charlene Frazier and husband Randy of Salina, Cindy Edwards and husband Gary of Derby, Shannon Schaefer and husband Jerry of Schulenburg, TX and Sheryl Kollman and husband Jack of Stockton.
She was preceded in death by her mother Sharon Oliva.
Machelle was a hardworking woman who showed her love by serving and caring for her family, friends, and patients. With the same love and patience required to grow her gardens, she planted in each one of us the seeds of faith, hope, and love. Through her daily example, she showed us that the greatest of these is love. Although Machelle will be sorely missed, she will live forever in the hearts of those who knew her best, for she was greatly loved.
A funeral service will be held at the First Christian Church in Plainville, Kansas on Thursday, March 23, 2017, at 11:00 A.M. Visitation will also be Thursday, March 23, 2017 at 10:00 A.M. until service time at the church. Burial will follow in the Stockton Cemetery.
Memorials are suggested to Emmanuel Foursquare Church, First Christian Church, or Hays Hospice and may be sent in care of Plumer-Overlease Funeral Home, 320 SW Second, Plainville, KS 67663.