Two Saline County high schools being their football post-season Tuesday night.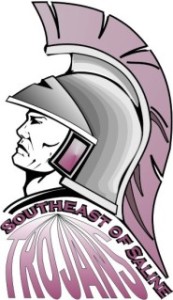 The Southeast of Saline Trojans will travel to face the 8-1 Halstead Dragons in a Class 3A first round match-up. It is the third consecutive year that the two schools will meet in the first round of the playoffs. Halstead won both meetings, 54-13 in 2014 and 46-7 in 2015.
The Trojans, 7-2, have lost their last seven post-season games dating back to 2006. They have not been out of the first round since that season. Southeast has suffered first round losses to Beloit in 2013, Garden Plain in 2011, Hutchinson Trinity in 2009 and again to Halstead in 2008. The Trojans last playoff win came against Norton on Halloween in 2006.
Southeast will also be looking to end a two-game losing streak. After a 7-0 start, the Trojans lost back-to-back games to Hesston and Hillsboro.
The winner of tonight's contest will move on to meet the winner of a first round game between Wichita Independent (3-6) and Garden Plain (8-1).
Tuesday's game can be heard on the official home for Southeast of Saline athletics, 910 KINA, at 910 AM, 94.5 FM, online right here at SalinaPost.com and the TuneIn application. Pregame with Devin Hanney begins at 6:30 p.m.
The St. John's Military Muleskinners find themselves in the precarious position of entering the first round of the Kansas Christian Athletic Association playoffs without a win. St. John's, 0-7, opens up the post-season in Wichita on Tuesday against Wichita HomeSchool, 6-2.
The two teams met in Wichita on October 7th with the Warriors coming away with a 56-19 victory.
It has been nearly one year to the day since the Muleskinners last won a game, which was also a first round playoff game, a 42-32 win over St. Mary's Academy.
The winner of Tuesday's game will face the winner of a first round match-up between Manhattan-Flint Hills Christian (4-3) and Cair Paravel (1-5).