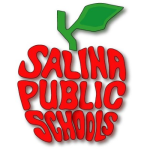 On Thursday, September 8th at 6:30 p.m., community members are invited to celebrate the completion of Cottonwood's 2014 Bond work. Cottonwood Elementary School's completion will be commemorated with a dedication plaque and ribbon cutting. Cottonwood's Family Walk Night will also take place this evening.
Katy England, artist, led the development of the art element. Challenged with the task of incorporating every student's work into a collaborative mural, England came up with a process that would allow each child's work to shine. Inspired by abstract artist Wassily Kandinsky's circle paintings, she created a plan that allowed each child regardless of age or skill level to be equally successful.  With the help of staff and administration she then set up mini workshops at Cottonwood so that each of the approximately 450 students could create their own circle painting that represented themselves. Katy then gathered the paintings together and placed them side by side to create a larger work. Once combined each child's individual work shines as part of a large and vibrant student community.
The brief, plaque dedication ceremony begins at 6:30 p.m. with tours and the Family Walk Night. Guests will be able to tour the new kindergarten rooms, storm shelter/multipurpose room, controlled entry and other improvements. Everyone is welcome and the event is free.