By Dusty Wiegert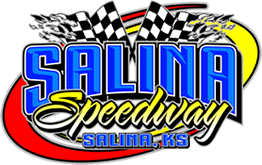 SALINA, Kan.
— Two weeks ago Corey Burch put up a valiant effort but fell a position short of the feature win in the 1st Class Chassis IMCA Modified feature at Salina Speedway.
This week, however, the tables were turned and Burch got past Corey Lagroon to take home the feature victory on a special night, during the Jaxson Full Youth Racing Fund Night featuring NASCAR driver Ken Schrader.
Lagroon looked to be on his way to Victory Lane but was stunned by a smooth running Burch, who used the bottom of the track to work past second finishing Lagroon. Danny Holt put together his best finish of the season for third with Steven Bowers Jr. rounding out the top four.
Brian Knoell, Danny Morrison, and Mike Petersilie won the heat races, while Morrison took the win in the special Cash Dash presented by Gary Cornelison of Good Old Racing Photos.
Continuing his winning ways Woodbine's Mike Traskowsky once again captured the Budweiser IMCA Hobby Stock feature. Traskowky had no problem maneuvering his way to the win, follwed by Pete Beaumont, Aaron McBride, and Tony Slothower.
McBride and Tommy Fose won the qualifying heat races.
For the second event in a row Nate Ginest found Victory Lane in the Xtreme Motor Sports IMCA Northern SportMod feature. Ginest started from the front row and was hounded by Rodger Peck but never passed. Peck settled for second with Daniel Gottschalk third and Tyler Frye fourth.
Fred Traskowsky and Ginest won the heat races.
Getting back on track in the Coors Light IMCA Stock Car division was Hutchinson driver Scott Miller. Miller methodically worked his way to the front and held off strong restarts by the pack behind him to get the job done. Jason Caldwell turned in a season best runner-up finish with Jeremie Myers third, and Scot Granzella fourth.
Jerry Phillips and Christine Brown won the heat races.
Returning for the first time in a few years was Marysville driver Scott Spellmeier, who took command early and lead to the end to capture the M&H Motors IMCA Sport Compact feature. Bailey Glavin finished a solid second with Paco Montague third and Art Bird fourth.
Spellmeier and Dallas Dunn won the heat races.
Racing continues
next Friday
night as the BSB Manufacturing NeSmith Late Models return, along with the 1st Class Chassis IMCA Modifieds, Xtreme Motor Sports IMCA Northern SportMods, Auto House Mod Lites, and Budweiser IMCA Hobby Stocks.
RESULTS
Salina Speedway
FWD Sports Compact 8/14/2015
A Feature:
1. Scott Spellmeier (Beatrice, NE), 2. Bailey Glavin (Bennington, KS), 3. Tracy Montague (Salina, KS), 4. Art Bird (Brookville, KS), 5. Dallas Dunn (Salina, KS), 6. David Pfiester (Junction City, KS), 7. Chris Unruh (Galva, KS), 8. Ashlyn Bird (Brookville, KS), 9. Randy Murphy (Ellis, KS), 10. Art Herzog (Hays, KS), 11. Britney Ball (Salina, KS),
Heat 1:
1. Scott Spellmeier (Beatrice, NE), 2. Bailey Glavin (Bennington, KS), 3. Art Bird (Brookville, KS), 4. Tracy Montague (Salina, KS), 5. Art Herzog (Hays, KS), 6. Britney Ball (Salina, KS),
Heat 2:
1. Dallas Dunn (Salina, KS), 2. David Pfiester (Junction City, KS), 3. Randy Murphy (Ellis, KS), 4. Ashlyn Bird (Brookville, KS), 5. Chris Unruh (Galva, KS),
Hobby Stocks 8/14/2015
A Feature:
1. Mike Traskowsky (Woodbine, KS), 2. Pete Beaumont (Concordia, KS), 3. Aaron McBride (Barnard, KS), 4. Tony Slothower (Salina, KS), 5. Duane Wahrman (Pratt, KS), 6. Jason Cleveland (Minneapolis, KS), 7. Kelly Pihl (Lindsborg, KS), 8. Tommy Fose (Salina, KS), 9. John Steele (Salina, KS), 10. Billy McBride (Salina, KS), 11. Elliott May (Lyons, KS), 12. Dennis Berry (Salina, KS), 13. Caleb Davis (Salina, KS), 14. Eric Cross (Salina, KS),
Heat 1:
1. Aaron McBride (Barnard, KS), 2. Mike Traskowsky (Woodbine, KS), 3. Tony Slothower (Salina, KS), 4. Duane Wahrman (Pratt, KS), 5. John Steele (Salina, KS), 6. Billy McBride (Salina, KS), 7. Elliott May (Lyons, KS),
Heat 2:
1. Tommy Fose (Salina, KS), 2. Pete Beaumont (Concordia, KS), 3. Jason Cleveland (Minneapolis, KS), 4. Eric Cross (Salina, KS), 5. Kelly Pihl (Lindsborg, KS), 6. Dennis Berry (Salina, KS), 7. Caleb Davis (Salina, KS),
Modifieds 8/14/2015
A Feature:
1. Corey Burch (Junction City, KS), 2. Corey Lagroon (Salina, KS), 3. Danny Holt (Topeka, KS), 4. Steven Bowers, Jr. (Topeka, KS), 5. Brian Knoell (Falun, KS), 6. Ken Schrader (Concord, NC), 7. Mike  Petersilie (Hoisington, KS), 8. Jesse Richter (Great Bend, KS), 9. Danny Morrison (Bennington, KS), 10. Jacob Schmutz (Junction City, KS), 11. Joe Cleveland (Delphos, KS), 12. Shannon Johnson (Salina, KS), 13. Jerry Phillips (Galva, Ks), 14. Larry Sutton (Beloit, KS), 15. Jimmy Brozek (Stafford, KS), 16. Lyle Shepard (Manhattan, KS), 17. Beau Davis (Cheney, KS), 18. Tim Watts (Beloit, KS), 19. Bobby Bills (Wichita, KS), 20. Briar Oelkers (Wichita, KS), 21. Brad Morris (Junction City, KS),
Dash for Cash:
1. Danny Morrison (Bennington, KS), 2. Corey Burch (Junction City, KS), 3. Brian Knoell (Falun, KS), 4. Mike  Petersilie (Hoisington, KS), 5. Larry Sutton (Beloit, KS), 6. Jesse Richter (Great Bend, KS),
Heat 1:
1. Brian Knoell (Falun, KS), 2. Corey Burch (Junction City, KS), 3. Jerry Phillips (Galva, Ks), 4. Corey Lagroon (Salina, KS), 5. Ken Schrader (Concord, NC), 6. Shannon Johnson (Salina, KS), 7. Briar Oelkers (Wichita, KS),
Heat 2:
1. Danny Morrison (Bennington, KS), 2. Jesse Richter (Great Bend, KS), 3. Bobby Bills (Wichita, KS), 4. Danny Holt (Topeka, KS), 5. Jacob Schmutz (Junction City, KS), 6. Tim Watts (Beloit, KS), 7. Brad Morris (Junction City, KS),
Heat 3:
1. Mike  Petersilie (Hoisington, KS), 2. Larry Sutton (Beloit, KS), 3. Beau Davis (Cheney, KS), 4. Steven Bowers, Jr. (Topeka, KS), 5. Joe Cleveland (Delphos, KS), 6. Jimmy Brozek (Stafford, KS), 7. Lyle Shepard (Manhattan, KS),
N. Sport Mods 8/14/2015
A Feature:
1. Nate Ginest (Lindsborg, KS), 2. Rodger Peck (Minneapolis, KS), 3. Daniel Gottschalk (Ellis, KS), 4. Tyler Frye, 5. Fred Traskowsky (Herington, KS), 6. Kurtis Pihl (Falun, KS), 7. Jesse Levin (Salina, Ks), 8. Tyler Post (Brookville, KS), 9. Chris Humphries (Salina, KS), 10. Chad Markley (Abilene, KS), 11. Tyler Watts (Beloit, KS), 12. Cody Stefanski (Great Bend, KS), 13. Marlin Farr (Hutchinson, KS),
Heat 1:
1. Fred Traskowsky (Herington, KS), 2. Daniel Gottschalk (Ellis, KS), 3. Chris Humphries (Salina, KS), 4. Kurtis Pihl (Falun, KS), 5. Chad Markley (Abilene, KS), 6. Cody Stefanski (Great Bend, KS),
Heat 2:
1. Nate Ginest (Lindsborg, KS), 2. Rodger Peck (Minneapolis, KS), 3. Jesse Levin (Salina, Ks), 4. Tyler Post (Brookville, KS), 5. Tyler Watts (Beloit, KS), 6. Marlin Farr (Hutchinson, KS),
Stock Cars 8/14/2015
A Feature:
1. Scott Miller (Hutchinson, KS), 2. Jason Caldwell (Salina, KS), 3. Jeremie Myers (Junctin City, KS), 4. Scot Granzella (Salina, KS), 5. Tony Steenson (Mentor, KS), 6. Arnold Williams (Russell, ks), 7. Trevor Schmidt (Hays, KS), 8. Jerry Phillips (Galva, KS), 9. Bobby Fiest (White City, KS), 10. Christine Brown (Topeka, KS), 11. Erick Tipsword (Clay Center, KS), 12. Trace Ayers (Salina, KS),
Heat 1:
1. Jerry Phillips (Galva, KS), 2. Jason Caldwell (Salina, KS), 3. Tony Steenson (Mentor, KS), 4. Jeremie Myers (Junctin City, KS), 5. Trevor Schmidt (Hays, KS), 6. Trace Ayers (Salina, KS),
Heat 2:
1. Christine Brown (Topeka, KS), 2. Scot Granzella (Salina, KS), 3. Arnold Williams (Russell, ks), 4. Scott Miller (Hutchinson, KS), 5. Bobby Fiest (White City, KS), 6. Erick Tipsword (Clay Center, KS),