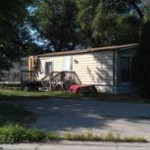 Police arrested a man Tuesday evening on a charge of arson.
22-year-old Robert Fischer is alleged to have started a fire in the bedroom of a trailer home, at 1221 N. Third about 9:30pm.
When fire crews arrived flames were visible. The fire was put out quickly.
The home is owned by a relative of Fischer's.
Damage is estimated at $3,000 .