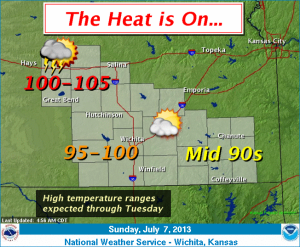 Hot temperatures and mainly dry weather is expected across much of the area the next few days as high pressure aloft builds over Kansas and Oklahoma.
Isolated showers and storms cannot be ruled out about anywhere, though the better chances will reside across northwest Kansas.
TODAY: Mostly sunny and hot, with a high near 100. Breezy, with a south southwest wind 17 to 21 mph, with gusts as high as 29 mph.
TONIGHT: A 20 percent chance of showers and thunderstorms. Partly cloudy, with a low around 75. South wind 9 to 18 mph, with gusts as high as 28 mph.