Local
Each year, the National Weather Service in Wichita conducts weather and safety presentations across Kansas. Saline County Emergency Management will …Read More.
News
RICHARD LARDNER, Associated Press WASHINGTON (AP) — The Senate has unanimously approved legislation that aims to derail North Korea's drive …Read More.
STAFFORD -Fire investigators are working to determine the cause of a fire on Wednesday morning in the city of Stafford. …Read More.
TOPEKA–Kansas Medical Mutual Insurance Company (KaMMCO), based in Topeka, has agreed to contribute $10,000 each year for four years to …Read More.
ANNAPOLIS, Md. (AP) — The group Mothers Against Drunk Driving released its first report on the number of times drunken …Read More.
MARION COUNTY – First responders rescued two people in Kayaks at the Marion Reservoir on windy Sunday evening. Kansas Game …Read More.
TOPEKA, Kan. (AP) — The Kansas House has approved a bill designed to address sexting among middle and high school …Read More.
TOPEKA, KAN. – A former Fort Riley nurse was indicted Wednesday on federal charges of stealing fentanyl, a powerful painkiller, according …Read More.
TOPEKA, Kan. (AP) — The Latest on the Kansas House's debate on budget legislation (all times local): 4:35 p.m. A …Read More.
KANSAS CITY, Kan. (AP) — A man and woman have been found dead inside a Kansas City, Kansas, home. Police …Read More.
By Miranda Davis KU Statehouse Wire Service TOPEKA – Kansans could be driving a lot faster if a bill to …Read More.
Sports News
Tuesday's Scores BOYS' BASKETBALL Abilene 68, Council Grove 48 Andale 60, Maize South 53 Andover 82, Arkansas City 31 Argonia …Read More.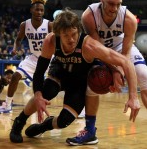 DES MOINES, Iowa (AP) – Ron Baker and Shaq Morris had 11 points each and No. 25 Wichita State …Read More.
University of Kansas Athletics LAWRENCE, Kan. – No. 6 Kansas moved into a three-way tie for first-place in the Big 12 …Read More.
Tickets for this Saturday's Salina Liberty exhibition game are on sale and 99KG is picking up the tab for 50% …Read More.
BURLINGTON, N.C. (February 9, 2016) – The Kansas City Royals and Burlington Royals announced a four-year extension to their Player …Read More.